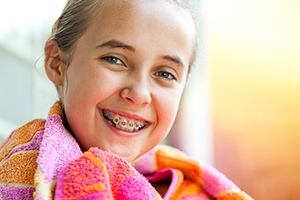 Do you want straighter teeth? You can correct spacing, gaps, bite, and more with the many orthodontic treatment options offered by an Omaha orthodontist. At Omaha Orthodontics, we specialize in braces, Invisalign, and more, and we work to help you understand all of your orthodontic options. Learn more about the types of braces available from our Omaha orthodontist.
4 Great Braces Styles Offered by Our Omaha Orthodontist
Metal Braces. Traditional metal braces deliver consistent and gentle force to move teeth. Stainless steel brackets are affixed to teeth. Metal alloy wires are threaded through the brackets. Metal bands may encircle some back teeth. Tiny rubber bands hold wires to the brackets. Metal braces are an affordable option at our Omaha orthodontic office.
Ceramic Braces. There are both traditional ceramic braces and self-litigating ceramic braces. The brackets consist of ceramic or porcelain and are tooth-colored. Brackets are affixed to teeth and wires are held to brackets with tiny rubber bands. Metal wires deliver gentle and consistent force to effectively move teeth. The coloring of the braces help them to blend in with the natural color of the patient's teeth. Straighten your teeth effectively with ceramic braces from our Omaha orthodontist.
Invisalign. Invisalign is considered the "Most Advanced Clear Aligner System in the World." Invisalign is a suitable treatment option for patients with an overbite, an underbite, crossbite, crowding, and spacing issues. The device can be removed at any time and allows you to eat whatever foods you like. You can also brush and floss normally. The device is made of smooth plastic that reduces the likelihood of cheek and gum irritation. Patients can straighten their teeth with little notice from any casual observer. Teens and adults enjoy the convenience of Invisalign. Speak with an associate at our Omaha orthodontic office to learn more about Invisalign today.
Speak with Our Omaha Orthodontist to Learn More About the Right Braces for You!
The choice is yours. There are a number of factors to consider when selecting the best type of braces for your needs and budget. Our 5-star-rated Omaha orthodontist can go over each option in more detail. To find out more information about our practice or to schedule a free initial exam and consultation, contact us today at 402.235.5581 or click here.